Auvers sur Oise – Dining with Vincent Van Gogh
On that starry, starry night,

You took your life, as lovers often do.

But I could have told you, Vincent,

This world was never meant for one

As beautiful as you.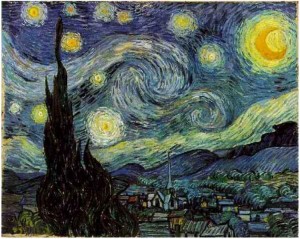 Don McLean's hit song "Vincent" captured for us the agony suffered by Vincent Van Gogh as he tried to live his life. I have stood many evenings in the village of St Remy de Provence in the south of France looking at this painted scene, and then being transported within the image of this scene as captured by Vincent Van Gogh in 1889.
In June I travelled just over an hour by train outside of Paris to the village of Auvers sur Oise. Vincent had been suffering very badly from depression in the south of France, and his brother Theo had helped arrange for him to travel to Auvers sur Oise to live in the same town as a doctor friend, Doctor Gachet, who was well versed in treating such medical conditions.
Doctor Gachet had arranged for Vincent to stay in the local Auberge, the Auberge Ravoux. He was offered a bedroom upstairs, and used to take all his meals in the dining room on the ground floor.
On arrival in Auvers sur Oise my wife and I walked past the church that Vincent had made so famous in his paintings, and continued to the cemetery where he lies alongside his brother Theo. From here we walked across the wheat fields under the scorching summer sun. When in the middle of this field we paused. The wheat was like a sea of golden sheaths gently swaying in the warm breeze. Overhead flew black menacing crows. This was the last scene Vincent Van Gogh knew, and this was the last scene that he painted. Vincent shot himself. He was carried back to the Auberge Ravoux to his bedroom where they attempted to revive him. He was carried from the Auberge through the dining room in a plain pine coffin.
We walked back to the Auberge Ravoux to the same dining room. This dining room has been preserved not only to remember the life of one of the greatest artists ever, but to celebrate and preserve the cuisine of the late 19th century. A visit to this dining room is a treat of monumental proportions!
We walked into the dining room, and it was as if we had stepped in to a page of a story book, or directly into the year 1890 – the elegant table and chairs, the exquisitely crafted tiled floor. The whole place gives you this aura of homeliness and a feeling of comfort, a place important for your body and soul. Today we were going to sit down and eat!
We had been longing to eat here for many years. We had a wide choice of dishes, all of which were prepared as if by your grand-mother for her favourite grand-child!
Entrees:
Scallops with Baby Artichokes, Mushroom Cream and Truffles
Scrambled Eggs with Asparagus
Marinated Herring and Salmon with Potatoes en Vinaigrette
Medley of Exotic Mushrooms with Hazelnuts
Main:
Seven Hour Lamb Ravoux style with Sautéed Potatoes and Smoked Salmon slab
Fricassee of Rabbit of Rabbit with White Wine, Herbs, Pearl Onions and Sautéed Potatoes
Burgundy Style Beef Stew
Dessert:
Dark Chocolate Soufflé Cake with Crème Anglaise
Cherry Clafouti
Warm Tarte Tatin with Crème Fraiche
Needless to say every mouthful, and every local flavour were a treat to the senses – I long to return to let other travellers with me experience this thrill.
In my business in designing holidays for travellers in France, I often have people say to me "I don't need to go to Paris as we had two nights there in 1995, and we did everything then".
The visit to Auberge Ravoux near Paris is fortunately not part of the mass tourism market, and our visit here reminded me of all the things that are good about life; family dinners, friends and love, and of the comforts of a warm comforting home. It also reminds me of those two day tourists, and all they miss out on while checking off their check list of mass-tourist destinations!
"In the world there are a few unique places that in their essential nature embody all of the emotions of a period. The Auberge Ravoux is one such place" (quote "Van Gogh's Table" by Alexandra Leaf and Fred Leeman).
To get here:
From Paris: RER C to Pontoise (St-Ouen L'Aumone), then SNCF to Auvers sur Oise (approx. 1h30)
Cook Book: Van Gogh's Table at the Auberge Ravoux, by Alexandra Leaf and Fred Leeman (ISBN I-57965-182-8)
Visit: Auberge Ravoux