Destinations
I'd like to share with you here a selection of my articles on various favourite places in France and Europe. I hope that these stories entertain you and may even help you plan your own holiday in France, or further afield?
Auvers sur Oise, near Paris
Carcassonne, Languedoc
Cancale, Brittany
Falstaff:
I will not lend thee a penny.

Pistol:
Why then the world's mine oyster,
Which I with sword will open.

Falstaff:
Not a penny.

This famous quote from William Shakespeare's celebrated The Merry Wives of Windsor ran through my mind a few weeks ago when I travelled to the idyllic seaside village of Cancale (pronounced: con-karl) in north-west France for a surprise day-trip.

Cancale lies effortlessly on the coast just east of the popular Saint-Malo in Brittany. It is like stepping out of reality and into a painting. A string of small houses and restaurants cling to the shoreline like little dolls' houses, lined up impeccably with a delicate touch of fantasy and romance. The village is so exquisitely picturesque attracting many visitors, many who are drawn by its reputation of the 'oyster capital' of France.

Cancale is, quite simply, a village that celebrates the small things in life – the love for food, the love for family and the respect for Mother Nature. Lining the water-front are countless cafés and restaurants all serving local seafood and produce. Any of the restaurants guarantee a good, local feed, using only the freshest and most divine ingredients. If you want something a little more fancy for a special occasion, the restaurant La Maison Blanche along the waterfront offers amazing service and fresh seafood with an interesting gastronomical twist.

Small food stalls are dotted along the beach, selling fresh oysters and other crustaceans. This is cuisine at its freshest and its best. You can come and sit along the ledge on the shoreline watching the hustle and bustle of this small town whilst feasting on only the finest seafood, at a very reasonable price. Below the ledge is a shoreline littered with a sea of empty oyster shells and lemon halves, a sneaky reminder of Cancale's love for taste and simplicity.

The eight square kilometers of oyster beds can easily be seen from the pier or the harbor when the tide is out. These beds are the major activity at the port each year and harvest up to 25,000 tonnes of oysters per year. That, my friends, is a casual 500,000 normal-sized elephants worth of oysters! The quality of the Cancale oysters are well-reputed across the nation and even the world. Even France's Louis XIV sat on his glitzy throne at Versailles and ordered oysters from Cancale – a bit like 17th century takeaways!

After exploring the beautiful Cancale, head out on foot to the Pointe du Gruoin for a stunning view across to Mont Saint Michel (weather-permitting!) before returning to the township later for a mug of local apple cider. Sounds pretty good to me!

William Shakespeare was right. The world is our oyster. The world's riches are ours to leisurely pluck from its shell if we so desire. And why shouldn't we?! Life is too short not to.

(Article and photos by Sarah Reese)
Corsica - First Time?
For the last twenty years, France has been my life, both personally and in my business. How did this happen to a young lad living on the other side of the world in New Zealand?
My father died nearly thirty years ago at a relatively young age. I adored my father. I had heard through him that I had a distant cousin living in France with the same name as him – David Reese.
Not too long after my father died I travelled to France with the purpose of finding this man with the same name as my father. I was travelling in the north of France with a friend of mine in a campervan, when I stopped at a phone booth and called France Telecom to see if they could provide me with the number of this man with a very non-French name, Reese. Surprisingly they provided me with the only "Reese" they had who was living in Corsica, an island 30 minutes by plane from the south of France.
I made the phone call, and this stranger on the other end of the phone explained that "if you want to meet me you better be quick because I leave in two days' time to tour around Europe". I was in the Loire Valley, and had to find a way to Nice overnight in order to get to Corsica. My travelling companion was told to make his way alone through to the south of France while I raced to Nice. Three trains later I arrived in Nice at 6am. With no time to sample croissants or fresh coffee I raced to the local port to find a boat which would take me to the port of Bastia in Corsica. I made it on to the boat just as the boat was preparing to set off. During my six hour crossing I had time to ascertain from the crew how I would find this man with the same name as my father. This would not be straight forward. On arrival in Bastia I would then need to take the famous narrow gauge railway from Bastia to Ponte Lecchia, and then another train which would take me to the attractive port town of Calvi, where my distant cousin was to meet me.
I was new to Europe, having lived in the comfort of New Zealand, where our oldest buildings were not even 150 years old. So making my way through the port town of Bastia in Corsica was an eye opener for me as I searched for the train station. Constantly passing people sitting on footpaths eating meals and drinking pastis and local wine were sights I had never seen before! I eventually caught the little train "Trinighellu". The train had open sides, and it began by snaking its way through narrow gorges and tunnels, until it arrived at the rocky mountains running through the centre the island. Then we headed from Porte Lecchia towards the coast where the train continued following beach after beach through to the picturesque town of Calvi. The countryside was glorious, and I soon realised why Corsica was known as the "Island of Beauty".
The excitement was building as the little train proceeded along the white sandy beach of Calvi, as I was now about to meet my father's namesake, David Reese!
The train jolted to a stop on the station platform and out I stepped. The station looked completely abandoned, except that there were two men waiting, with one man at each end of the platform. Hmm, which one is David Reese? One of the men was tall, wearing light cream coloured trousers with a matching shirt which was unbuttoned almost to his tummy button, showing off a bronzed chest that had seen years of dedicated sun worshipping and healthy living, and well coiffured greying hair slicked back off his face. Indeed this man looked like Roger Moore of James Bond fame. The man at the other end of the platform was short, with holey faded jeans and a faded flowery shirt. This man had a craggy face that had not had the care and attention of Roger Moore, and what hair was left on his head was wirey and it looked like he had just climbed out of his cave after having not washed for a week – he could be referred to as Cave Man! This couldn't be David Reese?
I was fairly comfortable with my genetic makeup and quickly ascertained who my man was! So I walked down the platform towards Roger Moore and promptly put out my hand "so you must be David". NO. Cave Man was my man!
David Reese turned out to be an inspiration to me and my family over the next twenty years or more, and taught me that in life you must never let anyone talk you out of anything, that you must follow your heart. Anyway, he took me to his village, Montemaggiore, perched in the hills behind Calvi.
Ten years earlier I was selected to travel for a climbing expedition to Darjeeling in the Himalayas. Before I left I had a dream about a village perched in the hills, a dream that was as vivid as being there. When I arrived in the Himalayas I was so disappointed because the village of my dreams was not this one – I had been certain that my dream was leading me to Darjeeling.
As we drove from Calvi to Montemaggiore, he drove around the valley passing villages with such musical names like Calenzana, Zillia, and Lunghignano. Then as we turned around a bend there in front of me was the village of my dreams – Montemaggiore, and I couldn't speak as tears welled up in my eyes.
What does this mean? Could I have been here before? Have you ever had any experiences like this? Maybe I was a Frenchman in another life!?
Note: I have since been travelling almost annually to Corsica since 1985, and have escorted travellers through this island more times than I can remember. This year from 19 August I have an escorted tour starting in Ajaccio and visiting of course my village of Montemaggiore! For further information contact me at john@france.co.nz.
Dinan, Brittany
Isle sur la Sorgue
Sunday morning and it's market day in L'Isle sur la Sorgue, and you will soon see why so many people travel here !
Isle sur la Sorgue is situated 30 minutes to the east of Avignon (Provence), just at the entrance to the Luberon Valley. It is essentially, as its name suggests, an island on the Sorgue River. This village is two towns; one on the market day of Thursday or Sunday, and the other on a non-market day. I love the calmness of the place when it is empty of armies of happy travellers, but also love the craziness of the scrum of people visiting it for the market days.
Isle sur la Sorgue has developed quite a reputation for its Sunday market especially over the years but has experienced a rapid creeping urban sprawl in the suburbs that are best avoided, but head to the centre of the town and its utterly charming like most other Provence villages.
The Sunday market is what Isle sur la Sorgue has become famous for around the world. The food market operates all morning through until lunch time, whereas the bric à brac and antiques are open all day. As Peter Mayle said about it "the only thing you can't get in l'Isle sur la Sorgue is a bargain". I love pottering here, and in each of the last three years I have found and bought some very good art, which I have then had re-framed and cleaned, and could have sold many times over!! See if you can find your own treasure!
If you come here, make a day of it. Start at the market where you will find an unlimited supply of useful and not so useful stuff, and then treat yourself to lunch. For the best post market lunches I warmly recommend you to head to either the Le Jardin du Quai, located near the train platform (set menu), or to Le Vivier (on the road heading out to Carpentras) where you will be treated royally with their Michelin star reputation. What a lovely way to spend a Sunday!!
Even if you are not in the market for food, bric à brac or antiques, the images you see will enchant you!
Access:
If you do not have a car, there are buses that go here from Avignon train station, but if you are staying in places such as St Remy de Provence, then I'd suggest taking a taxi and making a day of it.
Parking is always an issue, but if you get here before ten o'clock you should find a park somewhere!
Lake Como, Italy
In the film "A Year by the Lake" Vanessa Redgrave spent one seductive month living aimlessly in her luxury hotel overlooking the beautiful Lake Como. One month of leisurely breakfasts on the geranium decked terrace of her lakeside hotel, one month of wondering which restaurant she would eat her lunch at, one month of gentle meanderings on lake front tracks – indeed a gentle life of bliss.
I've just been escorting a group through the north of Italy, and to experience the pleasures of Vanessa Redgrave has been one of our thrills. We looked out from our hotel over the silky smooth grey blue water of Lake Como watching the boats criss cross from one delightful village to another, carrying boat loads of tourists. We were driven around the lake in our polished mahogany RIVA craft, and were introduced by our charming local Lucca to the magnificent villas of this lake – villas that have seen centuries of history, and people who make history. Photos can't capture the majesty of many of these places, even though everyone tried hard to!
We visited the utterly breath-taking Villa Balbianello, situated next to the equally beautiful home of Richard Branson. We were fortunate to see the work of Count Manzonni in preserving the history of his exploits and this major building on the lake front. Everything was perfect. The villa possessed furniture and history that astounded all of us, and the gardens surrounding the place were of manicured brilliance. Trees that had been cared for over the last four hundred years were almost showing us their gratitude for this care.
We were treated to a luncheon that Vanessa Redgrave would have been proud of at the Hotel Grand Tremezzo. Seated on the terrace of this grand hotel we had panoramic views across the oily smooth lake water across to our home of Bellagio, sitting so proudly on its dominant lake front position. Four hours later we were finished our lunch and after a short cruise back to our hotel we had decisions to make – where could we go for dinner!
At the end of one month on Lake Como, Vanessa Redgrave made a decision – "I think I need to have one more month here!" But for us we had more places of perfection to see – the grand opera Aida in the Roman Arena in Verona, the intensely sad ballet of Romeo and Juliet at La Scala Theatre in Milan, the heavenly treasures of San Vitale in Ravenna, and now I sit writing this sitting on my hotel balcony overlooking the Rialto Bridge on the Grand Canal in Venice. I have the privilege of sitting here as gondolas take awe struck tourists to see sights that one only can dream of – but this is not a dream, this is perfection!
Lisbon, Portugal
Portugal has been featuring regularly in the world media at present. Will there be another financial bailout for this country, as it struggles to survive financially?
This is the scene that was set for me as I chose at the last minute to lead an escorted tour through Portugal. (Read about why I chose Portugal here).
Lisbon was flattened by an earthquake in 1755, and because of this I was most interested in seeing how the city re-built itself in to the city that it is today. As I flew in over the river I had no idea what to expect.
I drove in from Lisbon airport down wide tree-lined boulevards, past large communal squares humming with entertainment, past attractive elegant consistently designed buildings on the way to my super elegant hotel only steps from the centre of town.
I share with you my Top 4 observations on Lisbon.
1. Lisbon – Post-Earthquake
The first thing that impressed me was the post-earthquake rebuild. The prime-minister of the time, Marquês de Pombal had insisted on wide boulevards and open spaces – locals at the time thought that he had lost his head insisting on such large roadways, when the form of transport at the time was on horseback. Of course now nearly 250 years later he is looked on as being a visionary.
2. Portugal – The Grand Superpower
In the 15th century the Portugese were the undisputed world superpower. People such as Vasco da Gama and Fredinand Magellan ventured out and helped create an empire which spread from South America through Asia including China and India. This is the city of explorers and to be able to see the richness of their life from this time was a treat. As Portugal progressed from the 15th century and raced towards the 20th century the city still entertained and lived the rich life of world leaders with a vast collection of embassies and palaces
in the hills beyond Lisbon city. Back 5 centuries ago the King of Portugal was known to travel to visit the Pope making his impressive entrance to Rome on a fleet of golden carriages with horses hooved in solid gold! Such a back drop is interesting when assessing the financial health of Portugal today.
3. Lisbon – the City and its Culture
To walk down the pedestrian street Rue Augusta from the river-front at Praca do Comercio is a treat! You walk across glorious pavements presented in mosaic tiles creating their own perfect works of art. You pass sensitively designed shop fronts that appear as if they are meant to be there, with no shop front clashing with the next. You slowly make your way up the
narrow streets on any one of the seven hills surrounding the city only to experience a visual triumph of charming narrow streets, breath-taking tiled facades to the building fronts, open-spaced communal squares, with teasing viewpoints out over this city, which is criss-crossed with old colourful electric trams. The colourful bars and restaurants and cafés with their world famous pastry counters are never far away from a flagging tourist!
Fado music and their restaurants would be one of the highlights of Lisbon. Fado music is a soulful folk music which usually consists of a solo singer being accompanied often by two 12 string guitars. The music and songs follows melancholic themes of love. The Maitre d' of the famous Club de Fado, Miguel Fernandas, mentioned that in these songs the singer sings about the loves in their life, always while referring about their country and their history. An evening of Fado singing will inspire you. Listen to Dulce Pontes – Cancao do Mar
4. The Portugese People
One of the joys of travel is to experience the people of the countries you visit. From the taxi driver, to the staff in the hotel lobby, to the servers in the cafés, to the local tour guides, I only ever experienced a richness of people that astounded.
Here were a proud people who were the great adventurers of the world, who still had the spirit as if they still were the great discoverers. They carried on their shoulders a richness of spirit, which maybe derives from the rich history that their country played in the globalisation of history. Portugal represents the best we can find in the human spirit. As we read of their country's financial crisis we must separate this out as being a political quagmire and issue, and that this personal spirit of Portugal will come to the fore in restoring their political pride in the years ahead.
I have recently finished leading a ten day escorted tour through Portugal, starting in Lisbon and ending in Porto. Over the next weeks I will share with you my experiences of this wonderful journey. You may want to keep an eye on www.france.co.nz for information on future tours of Portugal.
For my stay in Lisbon I especially would like to thank:
Alberto Rouiller from www.BestinPortugal.com
Miguel Carvalho – Portugese National Tourist Office in New York
Obrigado!
Paris - Edith Piaf
I sit on a bench on Place des Abbesses in Paris. There is a colourful merry-go-round in the centre of this autumn- leaf covered square in the heart of Montmartre, Paris. A young Parisian is sitting on the steps of the nearby church strumming on his guitar with his cap waiting hopefully on the footpath for some spare change. "My life is brilliant. My love is pure. I saw an angel. Of that I'm sure", he sang from the song of James Blunt.
It made me think. It made me think of all those people in history who have wandered through the streets of Montmartre, and sat on the seat where I sit – Van Gogh, Picasso, Lautrec, Cocteau, Montand.
"I saw your face in a crowded place, And I don't know what to do" the young guitarist continued.
I imagine.
I imagine the faces, like Edith Piaf who probably sat on the same steps singing a song. Imagine! But what of this young man singing, could he end up like Edith Piaf. It was near here that Edith Piaf was discovered by Louis Leplée, and where her life took off, and could the same happen to our guitarist friend.
As another wave of camera wielding tourists exited the metro on their way to Sacre Coeur I thought of Edith Piaf. She was born in a doorway in utter destitution near here, to her street dwelling parents, on a wintery December night. Her mother abandoned her and she spent her first years being "cared" for by an aunt and grandmother, being brought up in a brothel. She was blind until she was seven. The local prostitutes at the brothel took Edith to pray at a shrine to Saint Thérèse de Lisieux , where her blindness was miraculously cured.
This was her place. This was where all the artists and singers frequented. From the seedy Rue Pigalle through to the bars and clubs of Belleville, she sang on stages and street corners, ever since she was a young teenager. No guitar in her luggage, just a voice that captured the eye of a night club owner, and eventually the eyes of the world. With her slight stature of 1.45m she soared over the world stage. She will have sat here on my bench under the plane trees pregnant with her daughter Marcelle. She will have sat here making her decision as a 17 year old mother not to look after her newborn daughter, and instead leave her in the care of friends. It may have been here where she mourned the death of this daughter at the age of two years old.
"And I don't know what to do, 'Cause I'll never be with you" my guitarist friend continued.
"The Little Sparrow" as she became known, went on to be the magnet for French music assisting in the arrival of such household names as Yves Montand and Charles Aznavour. I can see them now sitting in front of the Le Saint Jean Bar on the side of the square dragging on their cigarettes and planning their next performances!
Edith Piaf will have strolled through Place des Abbesses with a string of lovers and husbands. She knew love, but she knew despair, as husbands and lovers either were killed (through accident or worse) or they left her.
"But it's time to face the truth, I will never be with you" my guitarist friend concluded. The present and the past comfortably hold hands on a cold autumn day.
Earlier I had travelled by bus to the Cemetery Père Lachaise in Paris. Visiting cemeteries is not a usual trip for me, but was astounded by my journey. Over 30 minutes I walked through the last two centuries of France, and after walking past Jim Morrison and his fans, then Oscar Wilde and his well lipsticked friends, I arrived at the grave stone of the Little Sparrow, Edith Piaf. Her tomb was as small as her stature, but she remained here with her daughter, and one husband, and every day is kept company by her army of admirers. She captured our imagination having written and performed such classic songs as La Vie en Rose, Non Je Ne Regrette Rien, Hymne à l'Amour, Les Trois Cloches (The Three Bells) and Milord.
Having been forbidden a Roman Catholic mass because of her unconventional life style, she was transported through the centre of Paris, farewelled by over 40,000 admirers, to the Père Lachaise cemetery where she now lies. Through a short life of heart-ache and despair, she also experienced brief moments of love and success, but through it all "le petit moineau" admitted "non, je ne regrette rien", "I don't regret anything at all, Nor the good that was given me, Nor the evil they're all the same, No I don't regret anything at all."
The Sparrow and the Rose.
La Vie en Rose
The sparrow sang.
La Vie en Rose,
And flew into the Valley of Thorns
As the three bells rang.
—–
From a Parisian street
On a cold winter's night,
In a country ravaged by war,
Wings desperately beating as it took flight,
A young sparrow's song
Would make the world's hearts soar.
—–
La Vie en Rose
The sparrow sang
From the depths of an anguished soul.
—–
La Vie en Rose
The little sparrow sang
In a voice so hauntingly sad.
—–
La Vie en Rose
The bleeding sparrow sang
While impaled on the thorns of life.
Edith Piaf – (1915 – 1963)
(The poem following my narrative was written and shared by the well-known shoe maker, travel blogger and poet, Jim McIntosh, from http://holesinmysoles.blogspot.com/. Jim is one of the world's caring sensitive citizens who among other things has a passion for preserving and protecting African wildlife and their communities, and anyone with an interest in these concerns would be encouraged to follow and support his generous and charitable activities.)
Interesting Links:
Possible Visits:
Musée Edith Piaf.
5, rue Crespin du Gast , 75011 Paris Tel/Fax: 01 43 55 52 72. Metro: Ménilmontant Bus: 96. Open: by appointment: 1-6 p.m
This museum is in a private apartment where her belongings remain. You need to ring and make an appointment – then climb the four floors to the apartment!
Place Edith Piaf: This bustling square contains a statue of Piaf which was inaugurated by the Mayor of Paris, Bertrand Delanoë, on October 11, 2003, to commemorate the 40th
anniversary of her death. Also includes the Café Bar Edith Piaf! Metro: Porte de Bagnolet (Line 3).
Cemetery Père Lachaise: Metro: Pere Lachaise (Line 3)
Piaf's Last Address: 67 Blvd Lannes, Metro: Porte Dauphine (Line 2)
Paris Gardens
This is not your typical Parisian garden. In fact, this is probably as un-traditional as Paris gets. This is the Parc de Bercy, and our final chapter in the French Way Spring Special .
Located in the heart of the twelfth arrondissement , the Parc de Bercy is split into three gardens which run along the right bank of the Seine River. I accidentally discovered this quiet corner of Paris on the way to one of the neighboring movie theatres – what a joy! It is now included in my morning power walk ritual, where I watch it change effortlessly with the weather and seasons. This is one of those places in the world where you see something different on every visit; buskers on their accordions, tiny tots playing on the merry-go-round, young couples out walking their Chihuahuas, or latterly, a man walking down three flights of stairs…on his hands!
Although considered "off the beaten track" for most tourists, Parc de Bercy continues to fascinate me in a way I can't really describe. You see, it doesn't feellike Paris. It's young, it's hip, and it's most certainly marching to the beat of its own drum. The Parc de Bercy presents us with a refreshing diversity of architectural designs, forms, ambiances, and discoveries.
In this corner of Paris, the old and the new are inextricably intertwined; a traditional garden house is located merely metres away from Frank Gehry's modern Cinémathèque , rectangular Japanese-influenced ponds are constructed under the shade of trees that have stood the test of time, and families can quietly eat an habitual Sunday night picnic dinner on the grass before heading to the movies at the trendy Cour Saint-Emilion , which borders the park. Some argue that it is a bit of a 'mish-mash' of design strategies, but the Parc de Bercy is really Paris' way of saying, "we're moving forward, but guarding what we hold dear."
Near the exit which leads to the impeccably constructed Simone-de-Beauvoir bridge, are twenty-one colored sculptures crafted by Algerian sculptor, Rachid Khimoune. Erected in 2001, these sculptures represent twenty-one children from twenty-one different countries of the world, symbolizing us entering into the twenty-first century with a regard and respect for one another. They stand on the slope overlooking the park, proudly looking ahead to the future and embracing the adventures it has in store for us.
Despite its modern flair, Parc de Bercy is still a traditional park. What I mean by that is that this area works in the way any other park does – there are always people playing, laughing, eating, drinking, sun-bathing (albeit not this week), and spending time with the people that mean a lot to them. This is what a park should do, and this one achieves it beautifully.
Parc de Bercy shuts at 9pm (hours vary depending on season)
The closest metro stations are Bercy or Cour Saint-Emilion on Line 14.
Article written by Sarah Reese.
Paris – and the Beach
Golden sandy beaches, palm trees swaying in the summer breeze, little giggling children running around in their bathers, pina coladas on ice with petite paper umbrellas… so where in the world is Carmen Santiago you may ask? Paris. Duh!
For the month of August, the banks of the Seine River temporarily transform into the world renowned Paris Plage. The beach attracts people of all ages, shapes and sizes to celebrate summer. On a typical Parisian summer day the sun shines, the skies are blue and people are transformed into holiday mode. There's fun in the sun for all ages – salsa dance classes, walk-through water fountains for the younger ones, magicians, live bands, rollerblading, foosball tables, and even aqua-gym classes in the large swimming pool constructed uniquely for this event. Swimming pool you may ask? Well yes, what's summer without a pool? Seriously, there's no show without Punch.
What I love most about the Paris Plage is watching the littlies on the beach. For many of them, this is the first time they have seen a 'beach' let alone played on its sandy shores making sandcastles. My boyfriend's sister has been working down in the south of France for her holidays looking after small children at a summer camp. For all of these children who live in the Paris suburbs, it was the first time they had ever seen the sea. Hélène explained to me that when they got there and saw the sea for the first time, they did not know how to react and something very bizarre happened… each and every one of these five to seven-year-olds ran into the sea… fully dressed. A logistical nightmare for the supervisors, of course, but a certain wave of happiness flowed through them seeing the smiling delight on the faces of these wee kiddies.
So if you're in Paris in the next week, come along and join in the summer festivities. The Paris Plage closes on the 22nd of August, so make the most of the beach at your inner city doorstep! All you need now to complete this easy, breezy summer feeling is a bottle of chilled rosé, a few tapas, and the summery sound of the latest Vampire Weekend CD. What more could one want?!
(An article by Sarah Reese)
Roussillon, Provence
The Count d'Avignon from Roussillon in Provence was a dapper young man who was often led to fight for his country and to travel with the Crusades of the 12thcentury. His wife was a very attractive woman and enjoyed far too much the pleasure of other men, while her husband was away from town. Her husband was not too impressed with her behaviour, and on the return from battle chose to have a large banquet. He chose for the main course to serve to his wife the heart of her lover, but of course only chose to tell her this fact when she had finished her dinner! The Countess in her distressed state threw herself off the cliffs of the village of Roussillon, and thereby her blood was said to have stained the cliffs and lands of this delightful Provencal village!!
Legends, don't you love them!
But the "blood stained" cliffs and land of the village of Roussillon attract travellers from around the world. No-one knows this story but they all leave with ample photographs and very fond memories of this place. It is clear to see that the main feature of this village are the multi coloured ochre cliffs and surrounding land. What stands out is the complete sensitivity that the French have towards their land and architecture and how the houses and villages arise out of the ground as if they were just an extension of it. In many countries architects try to create a difference, to create a mark that stands out from everything – this is not the French way!
When you come to Roussillon there are limited parking places, but don't give up. You should start your visit by walking up to the top of the village, past the compulsory postcard shops with glass bottles of ochre, and artists galleries. At every turn you will be greeted by views that take your breath away. Continue right to the top of the village until you arrive at the viewing table which offers you magnificent views over the surrounding countryside; Mont Ventoux, Mont Blanc, the Luberon Valley, Gordes, all stretch before you.
Once you have done this it is your turn to walk through the ochre cliffs. Signs clearly show you towards the "falaises" (cliffs) where for a small fee you can walk through these extraordinary "structures" seemingly painted in every shade of yellow, orange and brown. This is a fantastic thing to do, but be warned not to wear white shoes as the ochre could easily re-colour them!
If you choose to stay and admire this extraordinary countryside you could pause at the Restaurant David or just the local pub on the main street where I've recently had the most glorious provencale lamb daube – slowly roasted lamb casserole.
Roussillon in the last century saw a valuable trade in ochre for dying of paints etc, but of course with the development of synthetic colourings this industry has disappeared from the region, but today it has been replaced by people like me and you, just appreciating it for its sheer beauty.
Roussillon lies about one hour's drive from Avignon.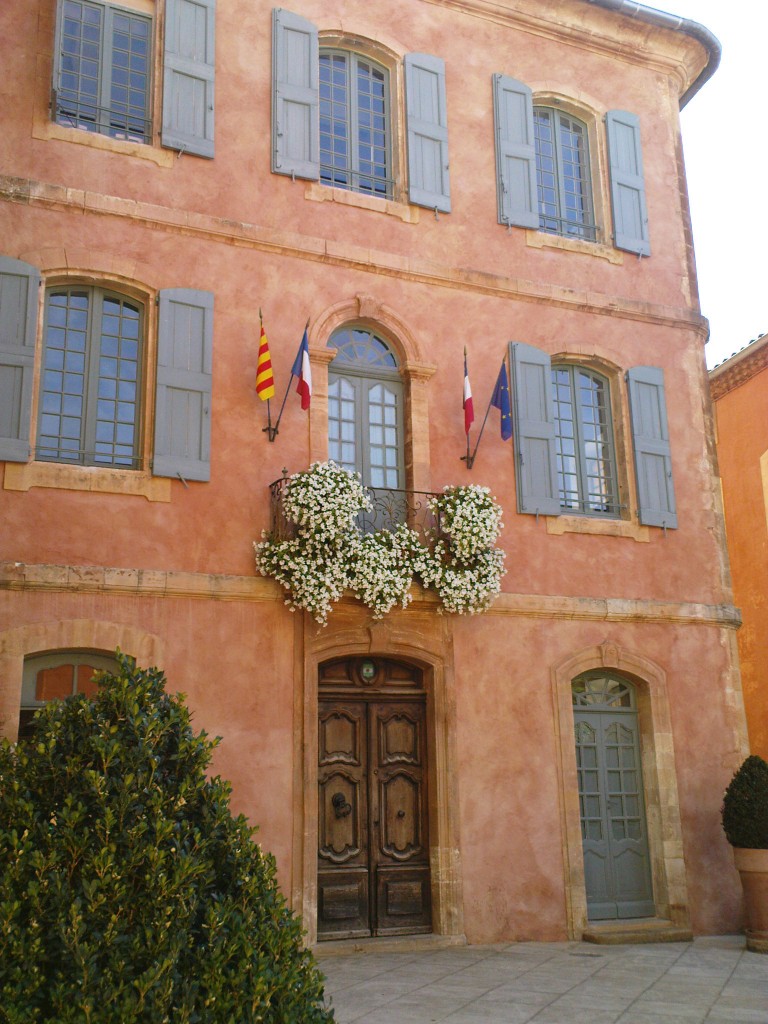 Split, Croatia
Villefranche sur Mer, Riviera
I just need a bed for the night!
I hear this comment in my travel business all the time. Well, if you are going to travel to the south of France and find yourself in the beautiful fishing port of Villefranche sur Mer, just 7km out of Nice, and you just want a bed for the night, then don't go and stay at the Hotel Welcome.
Nearly 25 years ago I brought my wife on a surprise Honeymoon from New Zealand to the south of France. She had no idea where she was going, but soon found out that there was a good 30 hours of sitting in a plane to get used to before arriving in this idyllic location.
We hired a bright red convertible Peugeot car and drove up to the door of the Hotel Welcome. I was feeling fairly self-assured as I had learnt French at school, and I had brushed up on a few critical phrases, just so I could impress my new wife. With my wife firmly in hand I strolled up to the hotel reception and proclaimed
– Bonjour Madamoiselle, je m'appele Monsieur Reese, j'ai une réservation à votre hotel. Hi, I'm John Reese I've got a booking here with you.
Comment ca s'écrit? – How do you spell that. (All good so far!!)
R E E S E – I slowly spelt each letter out.
Blank look across the desk
Errr, comment ca s'écrit?
So what don't you understand. It's R E E S E. Again I pedantically spelt out each of the five letters that make up my surname!
No, still a completely blank look, as she looked through the planning chart for the day.
Maybe the receptionist was deaf?
Finally I reached for her pen and wrote my name on a piece of paper.
Aaaah, Air Er Er Ess Er, Monsieur Reese! Ah, Mr Reese, welcome to the Hotel Welcome! Phew !
(Sadly I never learnt how to pronounce phonetically the letters in French at school!!)
This was our introduction to this very special address. We have now returned to this place almost annually since that time and have been fortunate to experience the unique position of this hotel perched on the edge of the bay of Villefranche sur Mer. From the balcony of each bedroom you can sit and watch the comings and goings of the bay. During the day you can watch the luxury cruise boats sail into port and moor themselves in the bay right in front of you, you can watch the fishermen unload their catch right at your feet. Then in the still of a dark night you can look across the mirror flat water of the Villefranche sur Mer bay reflecting the lights and dreams of luxurious villas on the nearby Cap Ferrat, whilst listening to the gentle rocking of a nearby yachts' masts moored in front of your hotel.
But the Hotel Welcome is not just my second home. The famous French artist Jean Cocteau lived here for two years in the 1920s, and stayed in Room 22, which you can stay in today! The present owner of the hotel, Gerard Galbois, displays a sketch which Cocteau presented to his father, which carries the words "A mon très cher Welcome, où j'ai passé le meilleur de ma vie" "To my dearest Hotel Welcome, where I spent the best years of my life". As well Richard Burton and Elizabeth Taylor stayed here, as well as Somerset Maugham.
I have many tourist who regularly return to the Hotel Welcome. Even without a car you have easy and regular access by train and bus, with places like Cannes, Antibes, Monte Carlo, Nice and Menton all being less than an hour away. One morning you might wake up and while enjoying breakfast overlooking this idyllic port view, you might decide to catch a train through to Italy to visit the Ventimiglia morning market just 40 minutes away – then after a pizza and pasta for lunch you can head back to your home away from home!
When you travel to the south of France you can either choose to have "just a bed" for the night, or you can choose to stay here at the Hotel Welcome – once you've been here, you'll keep returning, just like me!